About "We Island"
"We Island" Gumbo Group is about growing up here immersed in this culture and way of life. Connected by birth and vocation. Surrounded by ancestors called to from the past. Touching antebellum days up to the present. Left and came back and fell in love again.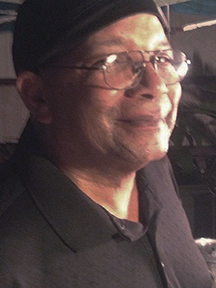 "We Island" Gumbo Group is a Lowcountry enterprise founded by me, Rowland Washington, and inspired by Sea Island culture. The lower coast of South Carolina down to the Florida state line is home to a distinct segment of America. Three hundred year old live oak trees, draped in Spanish moss pay witness to a population diverse at first glance, yet at one with the unique universe that exists here.
Former slaves and slave-owners share values and traditions fished from the Atlantic and its marshes, and farmed in the sandy soil of the Lowcountry. The descendants of the slaves brought from Sierra Leone and of the Southern Aristocracy exist stubbornly independent of one another yet connected by sea and agriculture.
It's the food that brings us together… Blue crabs, shrimp, oysters, fish, tomatoes, bell peppers, okra, corn, cucumbers. It's "where we caught 'em" and "how we made 'em grow." It's waking up to the smell of pluff mud and watching fiddlers march across a sandy beach. It's fish and grits, oyster roasts and boilin' crabs. It's skeeters and sand gnats and hot steamy nights. It's knowing when the tide is low and the bridge is open.
Those of us born and raised in this place can feel the rhythm of the tide, harvest the bounty, and cook the catch. We feel our ancestors here. We know that this place is where God lives. To us, ownership is universal and is granted to all who call this place home.
"We Island" is always in quotation marks because I heard someone say it when I was a boy.
I grew up on Prince Street, between Carteret and New Streets in Beaufort, South Carolina. My great-grandmother, two great aunts, my grandfather and grandmother, my mother and my father and five cousins all lived on our block.
When I was growing up, 'Colored Only' or 'White Only' signs adorned the water fountains, the movie theatres, and the Hunting Island State Park. Piggly Wiggly and The Atlantic Pacific (A&P) were the only food stores in town and were located on Port Republic and Charles Streets. Saturday was shopping day, and downtown Beaufort filled with folks black and white looking for weekly rations of food and clothing.
Black folk from off Lady's Island, Coosaw, Dataw, Warsaw, and Saint Helena Islands outnumbered all other community members. The Piggly Wiggly lot filled with vehicles that brought food and beverage. These were the first tailgate parties I ever saw. Restaurants only served black patrons through the back window. Not many cared for that type of service.
By 4:00 pm, most of the shopping was done, and the drivers rounded up their passengers.
"Where are you going?" I asked a rider.
"We Island," said the old Gullah woman explaining where she lived… Our Home.